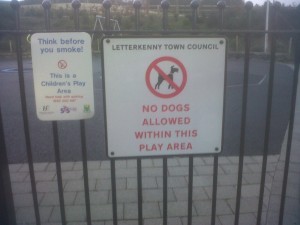 PARENTS HAVE BRANDED pet owners who constantly take their dogs INSIDE an enclosed play area for toddlers as 'dumb'.
A number of incidents at the park on the outskirts of Letterkenny have been reported in recent weeks.
And yesterday one 'thick' woman played with her dog inside the toddler area – forcing kids outside to wait until she put it back on its lead.
One responsible dog owner who contacted donegaldaily.com today said: "There are so many rules and laws at Ballymacool it could not be more clear on the signs as you go into it.
"But you have stupid, dumb and frankly just plain thick people who don't give a damn and are just giving two fingers to the Town Council.
"Dogs are always let off their leads – and roam that park at will, leaving their crap everywhere.
"And there are a few even thicker people who think it's great craic to take their dogs into the children's play area, let them off the lead and let them run around mad."
The parent said children wanting to play in the small park area had to wait for several minutes yesterday afternoon for the 'thick' dog owner to stop playing with her dog and take it outside.
"But there was no embarrassment. Just a 'stuff you' attitude to rules. And no-one seems to give a damn!"