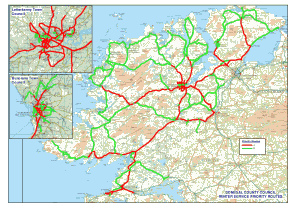 THIS is the map of Donegal's road network which shows how the county council has been forced to drastically slash its gritting services as another week of freezing temperatures kick-in.
The red lines show the primary routes which will be treated with salt but the green lines show secondary roads which will only receive a mixture of sand and grit in the coming days.
The map was given to county councillors in recent days as council officials admitted they are powerless to treat the majority of roads.
Many areas, including larges parts of West Donegal, will receive little or no attention at all as people are left to fend for themselves.
A three hour emergency meeting of county councillors and officials at County House in Lifford earlier today failed to find any answers to the county's road problem.
The council did get permission from the National Roads Authority to seek supplies of salt from the North but authorities there have little if any available.
Snow fell throughout the afternoon today but it is expected that plummeting temperatures and more snow overnight could cause chaos come tomorrow morning.
Colr Jimmy Harte said he is does not blame council officials or even the NRA.
"The bottom line is that Donegal has been left hung out to dry again. Once again we have been left o fend for ourselves.
"In fairness to council officials and staff on the ground, they can only work with what they have. I have no doubt that council officials will be working flat out in the coming days.
"But the bottom line is that we simply do not have enough salt to treat all the roads and the responsibility for that rests with Minister Noel Dempsey.
"You can bet the Minister's own constituency is not short of salt," fumed Colr Harte.
The chairman of the council's roads committee, Colr Padraig MacLochlainn, admitted they faced a "crisis situation."
Councillors were told today that officials are taking a 'wait and see' policy on how best to tackle the forecasted snowfall.
With salt reserves as a premium, the council says it does not want to put out salt only for it to snow again and render that salt inaffective.
Meanwhile pressure is mounting on schools as many do not know if they are going to open their doors again today(FRI).
If the cold snap spreads into next week, many schools face making up days later in the year.
There has also been a call for the Donegal VEC to set up a website service to inform schools if they are opening or not.
Many roads were reported to be freezing with some minor accidents o roads across the county yesterday afternoon as darkness set in.
Ends