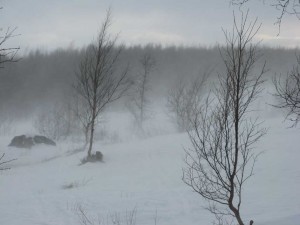 12.30AM SATURDAY latest: DONEGAL IS BEING pounded overnight with constant snow storms – the county's worst snowfall for almost 30 years – and there is now a highly unusual 'emergency weather warning'.
A spokesman for Met Eireann has confirmed the snowfalls of the last 24 hours have been the worst for decades – and it just keeps on coming with drifting in areas.
And tonight roads are being closed as Gardai plead with people NOT to travel unless it is an emergency. Many of the main towns – usually the scene of Christmas party-goers – are empty.
An 'emergency weather warning' means people should not travel unless it is a realy emergency.
A snow plough has broken down on the Mountain Road outside Carndonagh foricng the road to close.
At least another 30 centimetres of snow if due to fall overnight with temperatures remaining at freezing giving little hope of a rapid thaw.
Deputy Dinny McGinley says vast tracks of Donegal, especially in the south-west of the county from Ardara to Dunfanaghy, have been completed untreated.
He slammed the NRA for not getting enough salt stocks into Donegal despite warnings as far back as a month ago.
Meanwhile shops are facing a Christmas trading disaster and have blamed the Government for hanging them out to dry during the heavy snowfalls.
As Arctic-like blizzards blow across the county today, businesses in Letterkenny, Donegal Town, Buncrana and Ballyshannon say trade is well down.
Hopes that today would be the first busy shopping day of the last weekend before Chrissmas have been dashed as shoppers were stuck at home.
And with the cold snap expected to last until well into next week, they say many shops could be forced to close their doors in the New Year.
CEO of Letterkenny Chamber of Commerce, Toni Forrester, said she was furious how the National Roads Authority had turned its back on Donegal.
"We do not blame the council because they do not have enough salt and have to prioritise the roads they treat.
"Letterkenny is one of the main shopping hubs of the North West and the town's Main Street is like a skating rink because of the lack of salt provided by the NRA.
"The bottom line is that for everyone €1,000 a business makes, it gives €210 of that back to the Government in VAT. The Government has let Letterkenny businesses and all other businesses in the North West down.
"There is a lot of anger among business owners and Christmas was their one last hope at what has been a tough trading year for many. But many feel they are now facing an uphill battle to make the end of the year a profitable one.
"The Government and the NRA knew this snow was coming. It was forecast but they didn't prepare themselves and now businesses are paying the consequences," she said.
Many parts of Donegal were covered in up to six inches of snow as gales created blizzard-like conditions in many places.
But with the National Roads Authority limiting the supply of salt, many roads have simply not been treated.
Donegal County Council, which has just 1,000 tonnes of salt left, has been forced to salt just 370 kms of its primary routes compared with the 1,200 kms it treated last week.
Senior Roads engineer Vincent Lynn said they have had no option but to contain the amount of salt they are using.
"We have about 1,000 tonnes left and we have had to divide the roads into priority routes. We simply have no choice.
"We are told more salt will be arriving by the middle of next week. We have done our best to get as much as we can," he said.
Killybegs Independent Colr Thomas Pringle says although the NRA told Donegal County Council it bought 80,000 tonnes for the region last July, only half of that was ever delivered.
He added that huge parts of the county will now be cut off in the coming days and that the NRA will have to review their policy as a matter of urgency.
In Ballyshannon and Bundoran, the army have come to the assistance of some schools with up to a dozen soldiers from Finner assisting in the gritting around schools.
Ends