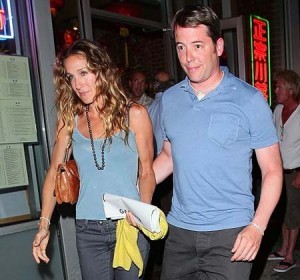 IT'S BEEN the talk of Kilcar all week – how the holiday home of Sara-Jessica Parker and Matthew Broderick is at the centre of a planning application storm.
And how once local man who wants to build a new house overlooking it is being supported by Tanaiste Mary Coughlan in an upcoming planning battle!
The Broderick family has been coming to Donegal since 1977. Actor Matthew and his sisters Martha and Janet inherited their cottage from their parents and now have an equal share.
But when local man Connor Meehan applied for planning permission for a single-storey flat-roofed home on a hill overlooking the Americans' bolthole, Martha Broderick objected.
She wrote to Donegal County Council to object, insisting: "To permit this development on such an elevated site would destroy the natural beauty of the overall area  and set an undesirable precedent in the general area."
Ms Broderick also described the proposed dwelling as a 'scar on the landscape' and claimed it would overlook their property.
The County Council however has given approval for the house to be built. Mr Meehan was supported in his application by local TD and Tanaiste Mary Coughlan. She said the local man was entitled to build the home under the County Council's rural development policy.

Now the Bordericks have appealed the Council's decision to An Bord Pleanala. The appeals body will give its ruling in April.
The Brodericks and Parker see Kilcar as their 'home'. They get on well with local people and shop locally without being hassled. Matthew Broderick (48) frequents the local pubs when he is in the area.
One local woman told donegaldaily.com: "This is very unfortunate. The Meehans have been around that area for generations and I suppose people would support Connor's right to a home. They are good people.
"At the same time, we all get on with the Brodericks and we wouldn't want to see them upset. We hope it is sorted to everyone's satisfaction."