SHOPS across Donegal have reported their Christmas takin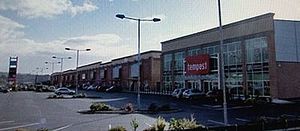 gs are already down more than 50% compared to last year.
Restaurants, pubs, shops and supermarkets were doing very little trade yesterday (SAT) as treacherous roads prevented people from coming into the main towns.
McElhinney's Department Store in Ballybofey was 'slow' when donegaldaily.com visited yesterday and similar reports came from Donegal Town.
None was that more evident than in Donegal's biggest shopping hub Letterkenny where the Main Street and outlying retail parks were distinctly lacking in any sign of Christmas cheer.
Local businessman Gerard McCormick from Magees Chemists blamed the Government and the NRA for failing to provide enough salt to Donegal.
"We have been let down and we have all lost out as a result. This cannot be allowed to happen ever again," he said.
Over at the Link Retail Park, many shops including TK Maxx, Next, Marks and Spencer and Argos were half empty with no queues at tills.
The only thing an Argos spokesman said it had sold out of was children's plastic sleds for the snow.
But with many businesses pinning their hopes on yesterday and today as being two of the busiest of the year, the feeling was one of doom and gloom at the Letterkenny Chamber of Commerce.
Only last month CEO of the chamber, Toni Forrester, had said she was pleased that the Euro had got weaker against the Pound and that many people were now seeing the value of shopping in Donegal.
But yesterday she said she was outraged that the National Roads Authority and the Government had let businesses down by not supplying enough salt to keep the county's roads clear.
""It's not like they didn't know this snow was coming – they were told about it weeks ago.
"Many roads are like bottles and people are simply not able to come out and shop. It's a disgrace and the Government and the NRA should hang their heads in shame.
"Many businesses were hanging on by the tips of their fingers and this will put them over the edge. The Government forgets that for very €1,000 a shop makes, more than €200 goes back to them in VAT.
"Christmas has been a disaster so far and we can't see it getting better unless the Government does something about getting the roads back in order," she fumed.
In West Donegal roads were left treacherous after the council had been forced to spare their salt leaving many people who had planned to do their Christmas shopping unable to get into towns like Dungloe and Ardara.
Some did try to drum up a little business including the Ramada hotel in Letterkenny who were offering 'Snow Specials' of just €25 per night.
Ends