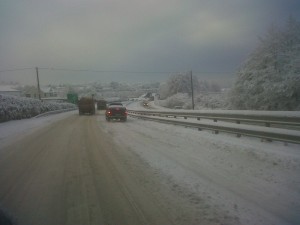 SNOW ploughs have started to try to clear the dual carriageway out of Letterkenny to Manorcunningham after outrage from motorists this morning – with one woman telling us: "I thought I was going to die."
The road is 'very dangerous' – one donegaldaily.com reader said she was 'stunned' to discover it was the worst part of her journey to Derry this morning.
And this afternoon a Letterkenny woman has told how she thought she was going to die when her car spun out of control on the dual carriageway outside the Cathedral Town.
The woman, who was driving to work in Buncrana at 8.30am, contacted donegaldaily.com to warn other motorists about how bad the road is.
The woman revealed how she did TWO 360 degree spins and closed her eyes as she thought cars coming behind her were going to smash into her.
"I have been travelling this road for the past five years and I have never seen it as bad. I actually thought I had got over the worst of it when I got up the hill towards the Derry roundabout.
"I didn't even press the brake when I suddenly went completely out of control and began to spin around. The first time it happened I couldn't believe I was facing the same way again.
"I decided to keep driving but a few seconds later the same thing happened again. But this time I looked in my mirror and saw cars coming behind me. I honestly thought I was going to die.
"I was waiting for the smash but somehow the cars managed to veer out of my way. A couple of them even stopped and asked me if I was okay which was very decent of them," she said.
The woman eventually built up the courage to start again and decided to turn back to Letterkenny.
The woman said she was outraged the main dual carriageway had been left in such an horrendous state.
"From what I saw that road was not treated before 8am today. How could it have been? I was travelling on an ice-skating rink.
"The dual carriageway is the main road for so many hundreds of motorists each morning. If the council claim they were salting and gritting the Primary roads, then why was this road not treated.
"People could be dead but for the grace of God and the fact that people were driving with so much care," she said.
There is growing anger throughout the county today at the state of the roads. Readers in Ballyshannon, Glenties, Ardara, Kilcar, St Johnston, Carndonagh, Ramelton, Termon, Falcarragh, Gaoth Dobhair and Letterkenny have told us how dangerous local and main roads are.
Readers are also reporting a number of incidents of 'nutters' overtaking on some roads – even though outside lanes are even worse than the inside lane.
* Send us your pictures and news reports to info@donegaldaily.com