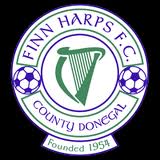 FULL-BACK James Doherty has signed on the dotted line for another season at Finn Harps.
He has agreed a one-year deal after a superb 2010 with the Finn Park club.
Last season the 22-year-old played every game for Harps and was voted Young Player of the Year.
It was a superb turn in fortunes for James who had an indifferent start to his career.
Meanwhile the Ulster Senior League will be sticking with summer football, despite a small minority wanting to return to winter games.
And with weather like this, it seems the summer decision is the right one.