FINN VALLEY AC NOTES: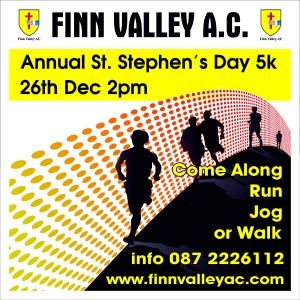 It's all systems go behind the scenes for Sunday's 5k at Finn Valley with a 2pm start.
Entries can be taken on the day and honorary starter on this occassion will be Donegal Mayor Cora Harvey.
The event is now really well extablished over some 40 years and the invitation is out there for walkers/joggers /runners to come along young and old.
Should anyone wish to pre-enter contact rundonegal@gmail.com.
It would of course be helpful if entrants turned up early to register. Everyone welcome with refreshments afterwards.
A happy christmas to all and of course a busy year lies ahead with the novice and uneven age championships on January 16th.
So its a matter of fully focused over the holiday period .Congrats on the recent 25 years wedding celebration of Gerry and Kay Byrne attended by their many friends  at Finn Valley Centre.