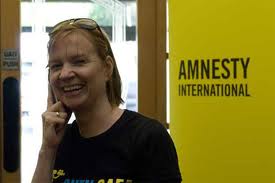 IRELAND'S biggest-selling newspaper has apologised to Gortahork film-maker Neasa Ni Chianain after claims it made in 2008 and 2009.
The Sunday Independent claimed Ms Ni Chianain gave an unfair portrayal of poet Cathal O'Searcaigh in her documentary the Fairytale of Kathmandu.
In the documentary the well-known film-maker reveals how O'Searcaigh was having sex with teenagers as young as sixteen when he visited Nepal.
Yesterday the newspaper apologised unreservedly to Ms Ni Chianain for the articles.
There was furore in 2008 when the details of Ms Ni Chainain's documentary first appeared.
The debate on the poet's right to have sex with the young men caused huge debate across the country.
Some claimed the men were above the legal age of consent while others accused the Irish-language poet of preying on the poor young men and offering them gifts of bicycles in return for sex.
A source close to Ms NI Chainain said she was delighted by the newspaper's apology.
"Neasa has been through hell and back since making the documentary about Cathal. She could have so easily turned her back and decided to edit the controversial parts of the documentary out.
"But she decided to leave them in and let the public make up their own mind about what they saw on film.
"But when her intentions and her professionalism was called into question, she decided she had no choice but to seek an apology from the Sunday Independent.
"It has been a long time in coming but thankfully it has now and that is all Neasa ever wanted," said the friend.
Ends