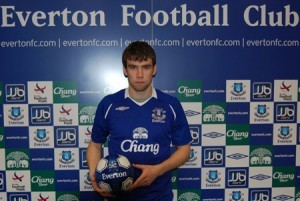 CARLOS Tevez's return failed to inspire Manchester City as Seamus Coleman's 10-man Everton travelled to Eastlands last night – and won 2-1.
Tevez boosted City before kick-off by withdrawing his transfer request, but the striker was largely anonymous.
And it was Killybegs native Coleman who was the shining star, setting up Everton's opener.
As Baines's cross curled in, Victor Anichebe leapt with Vincent Kompany and the ball flew on, apparently destined for a goal-kick. But Seamus Coleman didn't give up. Kolarov turned his back as Coleman angled the ball towards Cahill.
Kompany had moved out, fearing Coleman might cut the ball back to Rodwell, who was lurking on the edge of the area. Cahill, unmarked and dangerous, had all the time he needed to meet Coleman's clipped cross with a firm header past goalkeeper Joe Hart.
Leighton Baines put Everton 2-0 up by half-time but Victor Anchibe was sent off on the hour.
City pulled one back when Yaya Toure's shot deflected in off Phil Jagielka, but Kolo Toure was red carded late on.
Coleman, exhausted by a stunning performance, was replaced with 15 minutes left to a rousing reception from the travelling Everton fans.
At the final whistle those fans enjoyed a rendition of '2-1 and we spent f*** all'.
It seems David Moyes capture of Coleman is looking like the bargain of the decade.