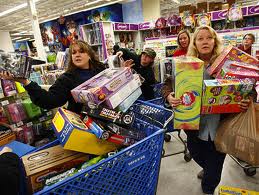 THERE WERE MAJOR traffic tailbacks in many towns this evening as some semblance of Christmas finally arrived in shops and businesses across the county.
Last weekend was a whitewash with many shops, hotels and restaurants reporting a 50% downturn in business compared to this time last year.
But shoppers were out in force today with Letterkenny, Buncrana, Donegal Town, Dungloe,Ballyshannon and Ardara all reporting a steady flow of of business.
This evening the retail park and main street in Letterkenny was packed with shoppers – though no-one was complaining about the traffic, many people are just glad to be out.
The army was deployed to a number of towns including Ballyshannon, Letterkenny and Buncrana and have been clearing footpaths along with business owners.
Toni Forrestor of Letterkenny Chamber of Commerce said there are signs that people are beginning to brave the elements.
"In fairness I think a lot of traders, not just in Letterkenny but in towns across Donegal, have taken matters into their own hands.
"The footpaths are clear in most towns now and the council is gradually getting a handle on the roads.
"We still have a long wayt o go but we're hoping for a solid few days right up until Christmas Eve," she said.
Ends