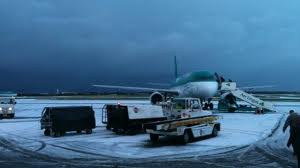 THOUSANDS OF people planning to return home to Donegal for Christmas could now be stranded because of the horrific weather conditions.
While the freezing weather conditions hit the North West with a bang last Friday, heavy snowfall did not arrive in Dublin until yesterday.
But when it did, it brought Dublin Airport to a virtual standstill. All Aer Arrann and other flights were cancelled this evening – with a new update not expected until tomorrow.
And that means that hundreds of Donegal students and people working abroad will face nervous waits and long queues if they are to get home for December 25th.
Tonight airport bosses in Dublin were forced to close the airport again leaving dozens of flights in and out of the capital cancelled.
The weather conditions means that flights from the US and from Britain cannot land at Dublin Airport leaving a knock-on affect for other scheduled flights.
Passengers at London's Heathrow and Gatwick Airports were told not to arrive at the airports unless they contacted their airline first and were told their flight was definitely taking off.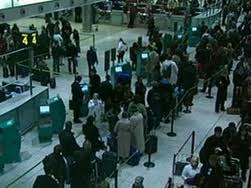 Donegal people facing similar journeys from airports across central Europe including France will face the same dilemma with heavy snowfalls in the past couple of days.
Both Belfast and Derry Airports have also encountered serious delays and cancellations in recent days.
And the even worse news for many passengers is that more freezing temperatures and further snowfalls are forecast right up to Christmas Eve.
Many have already been forced to give up or to scramble to find other ways of getting home to spend Christmas day from Pettigo to Malin Head.
Ferry companies have been swamped with calls from passengers across Britain trying to book sailings to Rosslare and Dublin.
For others fortunate enough to live in Ireland, they have been told to make additional time for their journey back to the North West as roads remain treacherous
Meanwhile traders and householders across the county are now attempting to remove giant icicles from their premises and homes after a shopper was hit on the head in Letterkenny yesterday.
At one stage a JCB was being used to remove the frozen droplets after a several other near-misses with shoppers during the day.
Some icicles have been up to four feet long.
The shopper who was hit on the Main Street did not suffer any serious injury – but it is yet another hazard that under-pressure retailers have to deal with during this hellish run up to Christmas.
Traders in other towns were also attempting to clear icicles from their premises in case customers are injured.
The severe weather continued last night with snow showers in the north and west of the county including Gaoth Dobhair and temperatures of -10C.
Our roads are once again disastrous today and Gardai are appealing to people to slow down.
Ends