The Bishop of Derry and Raphoe has asked people to carry out "random acts of kindness" after he was rescued by a mysterious stranger when he got stranded in the snow.
Bishop Ken Good said the best of human nature is shining through the snow and the recession.
The Church of Ireland Bishop said a spirit of generosity is now becoming more common during the current period of financial woes.
And Bishop Good used an encounter with a complete stranger to appeal to people to look after eachother over the Christmas period and into the New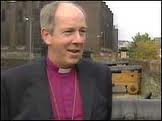 Year.
"What prompted the thought initially was someone's random act of kindness to me.
"My car was stranded in the snow and somebody stopped in a four by four with a tow rope and pulled me out.
"As they were doing so they said that they were really saddened at how selfish people had become and that we weren't thinking of eachother as much as we used to in times past," he said.
Bishop Good said that as temperatures continue to freeze, he wanted to plead with people to do whatever they can to improve other people's lives.
Ends