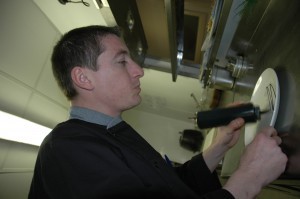 SIXTEEN local people have been given the worst possible Christmas news – the restaurant where they worked will not re-open in the New Year.
Bastille Bistro was launched on the High Road in Letterkenny last March and gained a reputation for serving excellent French food.
French celebrity chef Nicolas Brunelle (pictured) had a renowned reputation.
Having worked alongside TV star Rick Stein in his 'The Seafood Restaurant' in Cornwall, the 31-year-old from Picardie in northern France wanted to bring French cuisine here.
"I love Ireland and the Irish. I worked in Dublin before in Freres Jacques and I jumped at the chance to come back here, " he said after the launch.
"It doesn't have the weather of the place I worked in in St Martin in the Caribbean, but the people have been amazing."
The business man behind the Bastille Bistro is Frenchman Francois de Dietrich. A request for an interview three weeks ago has not been responded to.
It's not known if his FASRE estate agency is affected by the decision to close Bastille Bistro.
FASRE specialised in offering properties to rent before people could buy them.