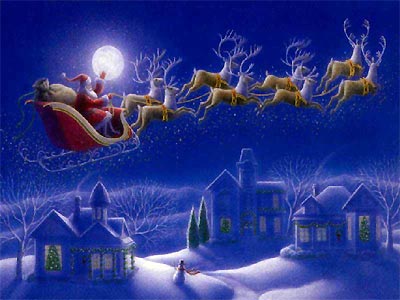 BREAKING NEWS: SANTA has landed in Donegal – and is in the Fanad area….and Inishowen, Letterkenny, Bundoran, Ranafast, Glenties and Ardara (and everywhere else apparently).
Our reporter Chris Massey told us a short time ago: "I've spoken to a number of people in a bar up here in Fanad and they've all claimed to have seen Santa around an hour ago."
In the past few minutes there have also been sightings in Buncrana; however the timing seems to conflict with a report of another sighting near Bundoran.
Dr Joseph Mary, a Christmas expert at LYIT, said this evening: "This is not unusual. This Santa fella is quite clever. He can literally pop anywhere.
"If I was a child, I'd be off to bed right now. He can turn up at your house literally at any time past eight o'clock on Christmas Eve, though it might be a bit later if you live anywhere around the Barnesmore Gap. Traditionally sightings there are after 9pm."
His wife Dr Mary Joseph added: "Sin ceart."
We're off to bed…don't want to be left with nothing for being up too late.
Merry Christmas! Ho ho ho!