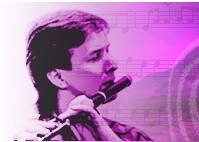 The name of musician Frankie Kennedy will long live in the memory of musicians across Donegal.
And yet again a host of names are set to honour the great flute player during the Frankie Kennedy Winter School which runs from tonight December 28th until January 2nd.
Included among the line-up is the great friend of Donegal, Luka Bloom (aka Barry Moore), who will bring his unique brand of musical storytelling tot he North West once again.
Music enthusiasts will travel from as far away as Germany, Japan and elsewhere to hear some spectacular sessions featuring some of the most gifted musicians around.
There will also be classes in various instruments including the fiddle, tin whistle, uileann pipes, accordion and bodhran.
One of the highlights of the winter school, which has been running since Frankie's premature death in 1994 aged just 38, has been the Gradam Francie Mooney.
This year's award, which honours a performer who sings or writes in the Irish language, goes to Tyrone man and honorary Donegal man Paul Brady.
All of the events will take place in the Gweedore region in many venues including Ionaid Cois Locha and Teach Huidi Beag.
The first gig is tonight at Ionaid Cois Locha in Dunlewey with a great trad session – which can be seen live online at www.livetrad.com.
Ends