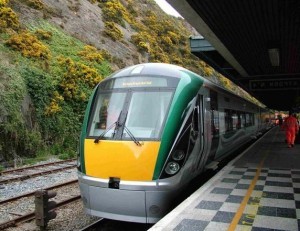 IT'S been the county's loss for decades – but the recent Big Chill has once again re-focused attention on our lack of a railway system.
Campaigners argue that a proper train line into Donegal from the North and up to Donegal from Sligo would help our economy and make travel so much easier.
But despite our representation in Dail Eireann over the years, it is a campaign seemingly going nowhere.
And in a national newspaper today one letter writer vents his frustration at the situation.
Christian Morris, who lives in Howth in Co Dublin tells the editor of the Irish Times: "In the recent cold-snap Letterkenny, Co Donegal, suffered temperatures of 15 degrees below freezing and snowdrifts which made it almost impossible for essential traffic to get into and beyond this major town which is also a gateway to further north-west Donegal, including Carrickfin, Falcarragh, Gweedore and the north coast of Ireland.
"If a mainline rail link ran from the existing terminus, at Sligo, going through Bundoran, Ballyshannon, Donegal town, up the existing derelict rail alignment in the Barnesmore Gap, to Ballybofey Stranorlar and ending at Letterkenny, this would open up the entire county to enhanced off-road freight and passenger traffic."
And perhaps echoing the frustration felt by so many people here, he adds: "If a politician existed at ministerial level with the vision and good sense to lobby for such a thing it could open up the entire county to proper inclusion in the entire national political network rather than, as it may seem, usually being the last place that good ideas land."
And so say all of us Mr Morris!