UPDATED…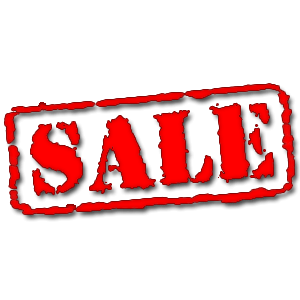 DONEGALDAILY.COM has linked up with businesses across the county to help everyone get the most out of the sales. 
Retailers and bargain hunters can email us with offer details to info@donegaldaily.com 
HERE IS A FULL LIST OF bargains as the great sales across Donegal this week: 
EZ Living @ Grove Furnishings' Winter Sale now on with great discounts in all departments. Many from Half Price. Carpets and vinyls from €5.99 per yd fitted. Free delivery. All stocked items delivered within 10 working days. Ample car parking and gift vouchers available. Phone 074 91 21064.  Email: grovefurntiure@eircom.net   www.facebook.com/grovefurnishings.
Wet n Wild, Letterkenny:  SALE starts now. Only heat hand warmers €2; Lorpen Merino Wool Socks 2 pack €20; Waterproof Breathable Walking Boots & Trainers from €50; Winter hats from €9; North Face Ladies Insulated Jackets from €145; Regatta Mens & Ladies 3-in-1 Jackets €75.
VERVE, KILLYBEGS ROAD, DONEGAL TOWN: SALE starts Wednesday December 29th at 10AM. All winter stock is half price and up to 70% of all occasional wear.
SOFAWORLD, MOUNTAIN TOP LETTERKENNY: SALE starts Monday December 27th at 10AM. All stock reduced to clear. 
TEMPEST, RETAIL PARK, LETTERKENNY: Tempest in the Letterkenny retail park will open their doors on St Stephen's Day to launch their massive winter sale. There are 14 top brand stores under one roof including Wallis, Topshop, DV8, Argento, Oasis and Warehouse. Tempest stocks a fantastic range of clothing for both ladies and men, jewellery, handbags, accessories and shoes. They are also offering a great exchange rate of £1=€1.20 throughout the store. They also accept your 'Shop Lk' vouchers. Its definitely the place to be on Dec 26th. For further information call ( 074) 91 04290 
TOYS DIRECT, MOUNTAIN TOP LETTERKENNY: ALL TOYS HALF PRICE. Sale starts Monday December 27th at 10AM. 
McELHINNEYS BALLBOFEY: Biggest ever Winter Sale starts Monday December 27th at 10AM. Coats were €199, now €50. Branded dresses were up to €199, now €25. Branded trousers were up to €99, now €29.95. Betty Barclay Jackets were €179, now €50. Guess shoes were €130, now €65. Lacoste Jackets were up to €310, now €129. Children's designer collections are 50% off. Also open New Year's Day from 11am to 6pm. 
ROSEWOODS, MAIN STREET DONEGAL TOWN: SALE starts Monday, December 27th at 10AM. 30% off wedding/occasional wear; 25% off party dresses; 25% off many other items in store. 
BOOTS LETTERKENNY: Christmas comes and goes so quickly each year and while for some, there's no better time of year, for the rest, it's what comes after that drives the excitement – The winter sales! Boots are excited to announce that this year will be no different from any other. In-store excited shoppers will find huge discounts across many Christmas sets of all the best selling and most loved brands. Not only that, there will be fantastic discounts off fragrances and electrical beauty items also. The sale starts today, 26th December, continuing on right through the month of January (while stocks last), so there's no excuse not to get to the nearest Boots and snap up that well deserved new years treat. Opening Hours: St Stephen's Day: 12.00am-4.00pm, Monday 27th Dec: 11.00am-6.00pm, Tuesday 28th Dec: 9.00am-6.30pm, Wednesday 29th Dec: 9.00am-6.30pm, Thursday 30th Dec: 9.00am-9.00pm, Friday 31st Dec: 9.00am-6.00pm, Saturday 1st Jan: Closed. Sunday 2nd Jan: 11.00am-6.00pm. 
FOY'S OF LETTERKENNY AND BALLYBOFEY: Sale starts Tuesday December 28th at 10AM. Up to 60% off across the range. 
MENARYS, RETAIL PARK, LETTERKENNY: Menarys in the Letterkenny retail park will open on Monday 27th launching their biggest ever winter sale. They have the best selection of top brands in Letterkenny covering everything from fashion and handbags to lingerie, cookshop and household. Some of their best offers include selected fashion from 'Gerry Weber' and 'Bianca' now at 50% off. Designer handbags for 'Guess' now with up to 25% off, 'Stellar' 5 piece saucepan sets with 60% off the RRP and beautiful bedding from 'Cocoon' and 'Bedek' complete with matching accessories now with 50% off.
If you are planning a holiday this year Menarys is definitely the best place to source your luggage. They can really help take the weight out of your travels with the new 'Luninere' collection from 'Revelation. With the largest case weighing just 4kg it's the smart choice for any trip and with 30% off during their sale your luggage will be the only thing that's light. If you're not sure about the size of your own cabin bags bring them along to Menarys where they have a complimentary gauge you can try. Ladies, did you know that 75% of women wear the wrong size bra? Make sure you are not one of them. Visit Menarys underwear department where the trained professional fitters will advise you on what to wear under what you are wearing. They offer a complimentary measuring and fitting service and also specialize in nursing and post surgery fittings. They stock all the top brands including Triumph, Playtex, .Fantasie,  Freya and Wonderbra and during their big winter sale the are selected lines now with 50% off and at least 10% off all other ranges.
With all these great offers and more Menarys in the Letterkenny retail park is definitely the place to pick up an extra special bargain. For more information call (074) 91 27785.