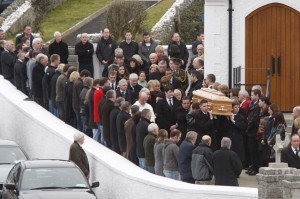 THE UNBORN baby of tragic crash victim Roisin Connolly was laid to rest in her mother's arms after her family could not stand the pain of separating them.
Tiny Catherine Connolly had originally been placed in a little white coffin and waked at her mother's home in Balloor, Fanad.
But a last-minute decision was made to bury them together in the same coffin in the cemetery adjoining St.Mary's Church in Fanavolty on Friday afternoon.
A friend of the family said Roisin's heartbroken husband Stephen, 32, and her mum Kathleen made the decision as they comforted eachother after losing both Roisin, 39, and tiny Catherine who was only five months.
"It was originally planned that little Catherine would be buried in her own coffin and placed in the grave beside Roisin.
"However the family decided they could not bare the thought of separating them. The little white coffin was brought to the church but little Catherine was already alongside Roisin.
"The family are devastated and numb by all that has happened but they feel a small bit better knowing that Roisin and her daughter are together in heaven now," she said.
The harrowing funeral mass for the mother and daughter, who died following a three car smash in Carrickmacross, Co Monaghan last Monday afternoon, saw men, women and children break down in tears.
The congregation heard how Roisin, a teacher at the Educate Together Primary School in Balbriggan, was the happiest woman in the world after meeting and marrying Stephen and the couple were planning to complete their life with a new baby.
Close family friend Fr.Pat McGarvey, who married the couple only eight months ago, revealed how he joined the couple for a drink and spoke about the birth of their child just the day before their lives changed forever.
"We spoke of the birth. Roisin had a twinkle in her eye. There was a joy, a pride, a hope for the baby and herself.
"You could see how perfect it all was. She had found she loved and adored and who adored and loved her even more. She was the happiest woman in the world," he recalled.
He added that Roisin always put others first and that love only grew when she met Stephen.
"She was radiant, joyful, upright, that was Roisin, you never seen her down. She was always willing to reach out to others. That night when we were out she said to me "will you look after my mother when I am not here"
 "For her and Stephen there nothing but joy from the day that they got married in April – there was nothing but joy and caring for others. Stephen's love, faithful, strong and true was enhanced by it. He gave her the gift of his love and she returned it lovingly," said Fr.McGarvey
Ends