A packed congregation heard how tragic road crash victim Roisin Connolly lived for life as she w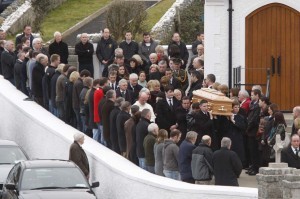 as described as "the happiest woman in the world" by the priest who buried her.
Roisin, 39, was brought to her final resting place along with her unborn child Catherine after a heartbreaking funeral mass at St.Mary's Church in Fanavolty, Fanad yesterday afternoon.
Men, woman and children wept openly as the two coffins sat at the top of the small church overlooking Kindrum Lake.
Pictures of Roisin (nee Langan) and heartbroken husband Stephen, 32, on their wedding day just eight months ago were dotted around the altar.
As Roisin's coffin was brought up the aisle, Stephen, still suffering the affects of last Monday's horrific road crash, was pushed behind her in a wheelchair.
But nothing stopped the devoted husband from hobbling on his crutch to read the first reading with the bruises and cuts still showing on his face.
He composed himself as he read the passage from the Book of Sirach.
"A faithful wife is a safe shelter. Whoever finds one has a real treasure. A loving partner is something beyond price, there is no measuring their worth. A loving partner is a life-saving remedy, and those who respect the Lord will find true life as a person is, so is their love," he read.
The chief celebrant of the harrowing funeral mass, close family friend Fr. Pat McGarvey, said he knew first hand what a treasure Roisin was.
Fighting back tears, Fr.McGarvey revealed how Roisin and her mother Kathleen had invited him to Christmas dinner just days before she was tragically killed on her way back to her home to Drumcondra in Dublin.
He was forced to cancel the dinner however as another parishioner had died suddenly.
"But being the person she was, Roisin came and waited outside my house for 45 minutes to see if I could make it. What kind of woman waits for a man like that on Christmas Day – a priest?" he asked.
Fr.McGarvey said Roisin was the happiest woman in the world and was so looking forward to becoming a parent along with husband Stephen.
He said Roisin and Stephen lived life for each other and that could be seen how they constantly looked after one and other.
He jokingly referred to an internet clip of Roisin doing an Irish jig and said how she knew she was a beautiful woman who always tried to look her best.
"Roisin had a beautiful spirit. Later after we sat saying the rosary Kathleen, Stephen, Roisin and I decided to go down to the local to discuss how life had been for them for 8 months of marriage.
" We spoke of the birth [of her child]. Roisin had a twinkle in her eye. There was a joy, a pride, a hope for the baby and herself. You could see how perfect it all was.
"She had found she loved and adored and who adored and loved her even more. She was the happiest woman in the world. The photographs (on the altar) capture part of that day. She had a broad smile," he said.
And he added  poignantly "Her life was short but filled with joy and faith. Let her life be an inspiration to people. Roisin played her part through to the end."
The touching service was celebrated in both Irish and English, reflecting Roisin's love of the native language of the Fanad area.
 The Government was represented by army Commandant Michael Treacy while a letter of sympathy was also sent by President Mary McAleese's office.
Among the many other people in the packed congregation were Roisin's friends from the Educate Together National School in Balbriggan and also representatives from the Donegal Association in Manchester where she lived for some years.
The offertory gifts brought to the altar included a GAA jersey from St.Lawrence's GAA Club, a school project book and the sash which Roisin wore proudly when she was crowned the Manchester contestant at the Mary from Dungloe pageant.  
Little Roisin Langan, named after her much-loved aunt, broke down in tears as but composed herself as she read out one of the many Prayers of the Faithful.
Roisin's sister Eileen Langan also gave a reflection to her sister in which she said that although she was out of sight, she would never be out of their hearts.
There were further heartbreaking scenes when people lined both sides of the graveyard to lead Roisin and baby Catherine to their final resting place in the adjoining cemetery as the choir sang the Mary from Dungloe.
Ends