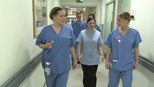 A DONEGAL NURSE was among a number of Irish nurses who featured on the RTE main evening news last night – talking about why they moved to England.
Letterkenny-trained Colleen O'Donnell told the Six One News she couldn't stay in the town because there were no jobs available due to the HSE recruitment embargo.
She is among a number of Irish nurses recruited at St Richard's Hospital in West Sussex. They were given free flights and accommodation by the hospital.
Said Colleen: "I would have stayed in Ireland but I'm getting on grand here. The girls I am here with are all lovely and we are all getting on the best."
You can watch the feature here: http://www.rte.ie/news/av/2011/0102/media-2879232.html#
ends