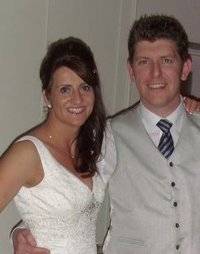 JUST A day after he buried his wife and unborn child, tragic Stephen Connolly braved the first day of the New Year to attend a swim to honour their memories.
The devastated husband, whose wife Roisin and unborn baby Catherine were killed in a car crash last Monday, struggled to limp across the sand at Ballyhiernan Beach in Fanad.
But nothing was going to stop Stephen, 32, from making the charity event which Roisin regularly attended when she was alive.
Surrounded by family and friends and by Roisin's mother Kathleen and sister Eileen, he put on a brave face as locals turned out to show their respect for one of their own.
A minute's silence was also observed for the tragic mother and child who were buried at the nearby St.Mary's Church in Fanavolty on Friday last.
Also there was Fr.Pat McGarvey who celebrated Roisin's funeral and revealed how she had offered to cook him Christmas dinner – just a couple of days before she died.
A family friend said "Stephen is trying his best. He has been so strong since he lost Roisin and baby Catherine. He knew Roisin loved to come back home for Christmas and the New Year.
"It was difficult for him but he struggled through it. You could have heard a pin drop during the minute's silence.
"He's coping but it's going to be difficult but Roisin's family and his own family have been a rock of strength for him."
Roisin, 39, was due to return to Donegal for the New Year swim at a place known locally as Din's Shore but she never made it after the three car collision outside Carrickmacross in Co Monaghan.
All proceeds from the charity swim went to the South African Missions under the direction of Sr Margaret Sweeney.
The money is spent on providing food, clothing, shelter and accommodation and education for destitute children – something which was very close to teacher Roisin's heart.
"Roisin was beautiful on the outside and the inside. She lived for helping and teaching others," added the friend.