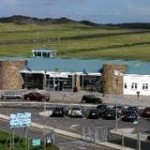 Management at Donegal airport have admitted they are facing an uphill struggle after one of the toughest years on record.
A spokesperson for the airport, which opened in 1986, confirmed to donegaldaily.com that December 2010 was the worst operational month on record.
A total of 32 flights had to be cancelled due to the adverse weather conditions.
Eilis Barrett, Airport Operations Manager, admitted the normally busy periods of Easter and Christmas could not save what was a very difficult year.  
 "2010 was an extremely challenging year with volcanic ash in April/May and snow in Nov/Dec causing 102 flight cancellations in the year compared to 14 in 2009 with total passengers for the year down by 7.8%".
 "We did project a decrease in traffic due to the economic downturn but these were two crucial times of year for business, Easter and Christmas, which would normally see flights operating at full capacity," she said.
However it was not all bad news for the Airport.
The approval by the Department of Transport to progress a major capital investment programme of over €2m involving runway works and navigational aids was a welcome boost.
The works commenced in November when the main contractor Balfour Betty appointed two local sub-contractors Hugh Harkin for ground works and McCaffreys of Ballintra for the tarmac works. 
The ground works are almost complete and tarmacing is due to start now in the coming week and is expected to take four to six weeks to completion. 
Management wish to advise that the haulage route is off the N56 from Crolly to the airport and traffic delays may be experienced over the period.
Operations Manager Ms Barrett stated "While we regret any inconvenience to the public over the period and would hope that any traffic delays will be kept to the minimum we would ask that people allow additional time for their journeys along this section of the road"
END