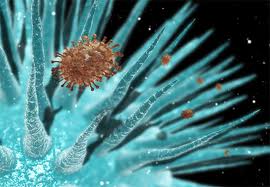 A LETTERKENNY medical practise is so busy with flu patients that it is dedicating a full-time GP to look after its patients.
The ARC Medical Practise on Pearse Road took the decision after being inundated with patients with symptoms of swine flu and general flu.
The HSE has asked people with flu symptoms to contact their GP rather than turning up at hospital.
There are big delays at Letterkenny General today as a result of patients presenting themselves at A&E – and many outpatient surgeries are being cancelled.
There are also staff shortages due to illness.
Meanwhile a Letterkenny man and and a Donegal Town mum have told of their hell after contracting the H1N1 virus – the potentially lethal swine flu.
Donegaldaily.com has spoken to two people suffering from the dreadful sickness, and both say it is the worst illnesses they have ever had.
The Donegal Town mother coughed and spluttered as she told us by phone: "Every time I fall asleep I hope that when I will wake up that it will be gone, but it just gets worse.
"I've been unwell for four or five days and I've been vomiting a lot, even though I've hardly eaten anything. My body aches all over; it's the flu, you know that. But this flu just wrecks you."
Despite her hell, she did have time for a joke: "I suppose I have lost a good few pounds at this stage, but it's not exactly the way I wanted to do that in the New Year!"
The Letterkenny father we spoke to was feeling perfectly all right last Saturday morning.
But by teatime on the same day, he had a high temperature and had started vomiting.
"You feel all weak as if you have no energy at all," he told donegaldaily.com.
"My head is busting with a headache all the time and my body feels as though I've just gone ten rounds with Mike Tyson. I always get accused of getting Man Flu when I catch a cold, but believe me this is the real thing – and then some.
"I'm just sorry I didn't go and get the vaccine. I'd happily pay €200 for it now if I thought it would just go away."
Donegaldaily.com first reported fears over Swine Flu in the county more than a week ago after an alarming increase in cases in the UK.
We understand that six people are now being treated at Letterkenny General Hospital with serious symptoms of the H1N1 virus. Two other people from the county are being treated in Sligo.
And dozens more people are showing symptoms of the condition across the county.
HSE has warned people not to visit hospitals in the county unless absolutely necessary as fears of a swine flu pandemic grow.
The HSE has admitted that there has been a huge spike in the number of new cases of swine flu cases has been recorded since Christmas.
donegaldaily.com has learned that three employees from a small Letterkenny company have been hit with the virus.
ends
Tags: