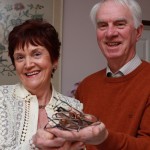 A retired couple Donegal couple have become the first couple in Ireland to undergo a miracle surgery to rediscover perfect sight.
Former Garda Tony Canning and his teacher wife Marie have complained about losing their eyesight for years.
Between them they had more than thirteen pairs of glasses around their home in Castlefin, Co Donegal and losing them caused constant bickering between them.
But now Tony, 68, and Marie, 63, have called a truce after the both had revolutionary surgery to have perfect vision restored to their once fading eyesight.
The couple have become the first couple in the world to have MPlus lenses fitted in their eyes by experts at the Cathedral Eye Clinic, based at the University of Ulster in Belfast.
Tony, who is originally from Mohill in Co Leitrim, said the operation has changed his life.
"I had two sets of glasses and I was forever lifting the wrong ones. I have to admit the operation has even improved my temper….I'm no longer frustrated looking for glasses around the house!"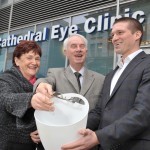 The revolutionary MPlus lens exchange surgery can restore 20:20 vision in most patients, regardless of age.
It's being dubbed 'laser for the over 40s' – as regular laser treatment rarely works for people over that age.
Said Tony: "I started wearing glasses when I was 40 and my eyesight had deteriorated ever since, especially when I was driving. I ended up with two sets of glasses.
"Then I read about these new lenses and Marie and I decided to go for tests to see if we were suitable and thankfully we were.
"I had two separate operations, one on each eye, and each lasted just a few minutes. In fact in the first one I asked the surgeon if he had started yet – and he told me he had already finished!
"The results are unbelievable. I can see everything clearly now and driving is a pleasure again. When I say it is life- changing it really is. It is one of the best things I have ever done.
"I do a bit of wood work as a hobby and putting safety glasses on over my old glasses was a complete pain. I no longer have to do that…and my woodwork has probably improved!"
His wife Marie, 63, says she is still pinching herself after getting the operation.
"It is absolute freedom," said Mrs Canning, originally from Shercock in Co Cavan, who spent most of her career teaching in Derry, Strabane and Donegal.
"I had 13 different pairs of glasses in my house and I hated them all. I went in to my opticians and asked for their lightest and sturdiest pair of glasses but even they bothered me.
"My life has completely changed. All the little things you do every day have become so easy again. I can do simple things like reading the paper or threading a needle on my sewing machine.
"Even talking to my son in Australia on Skype has become a breeze! And Tony is right, there's a lot less tension in our house these days. Neither of us is fumbling about the house anymore looking for glasses – and blaming each other for lifting them!"
The revolutionary new procedure was carried out by one of Ireland's leading eye specialists Professor Jonathon Moore from Belfast's Cathedral Eye Clinic.
The professor, who lectures on the procedure to other eye specialists from around the world, said today "Vision correction surgery has really taken off from small beginnings two decades ago.
"I have been working to help develop new techniques and the MPlus lens replacement is the very latest technology. It's the next step forward and it's a huge step forward.
"It opens up a whole new world, especially for those over the age of 40 who tend not to be suitable for regular laser treatment.
"The Cannings are the first couple to have the treatment. I know from what they have told me it has made a massive difference to their lives. That is very satisfying for us."
Ends