A little girl has been left heartbroken after callous thieves stole her go kart which she had just received as a present from Santa.
Devastated Jessica Peoples, 7, was left in tears when dad Michael broke the news that her pride and joy, a red Challenger buggy, had been stolen from her Co Donegal home this week.
The thieves crept into Jessica's back garden at The Maples, Lismonaghan in Letterkenny and took the buggy which was on the back of a trailer on Sunday night last, January 2nd.
Dad Michael said he was also in tears having to waken his daughter the next morning and tell his daughter her present, which was even fitted with pink JESSICA 1 license plates, was gone.
 "The tears welled up in her eyes and she ran to the window. She said to me 'People can't take Santa's presents away'.
"I was nearly in tears myself looking at her little face. Whoever took it knew well it was a present but obviously didn't care.
"How they can do something like this to a child is beyond me. It must have taken a couple of men to get it out of the garden as my jeep was blocking it in," he said.
Michael revealed how Jessica couldn't stop playing with the buggy, which cost €1,800 from Santa,  since she got it on Christmas morning.
Now he said he only hopes the theft does affect her in the future.
"She is already going around the house at night with a little torch making sure everything is locked up. That's a terrible way for a seven year old to be thinking already.
"I only hope that this doesn't affect her down the line," he said.
Michael has contacted the Gardai who are viewing CCTV footage of the area around where Michael lives in the hope of getting a lea don the heartless thieves.
In the meantime Michael has also offer a cash reward for anyone who may know where little Jessica's Christmas present is.
"If people are reading this and have been offered such a red Challenger buggy for sale cheaply, then I would ask them to get in touch with me or the Gardai.
"It's not even the money now. It's the fact that it would mean so much to Jessica. Her heart is broken but it would mean the world to get the buggy back," he said.
Michael can be contacted on 086 7849977.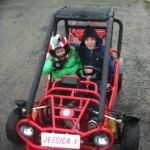 Ends