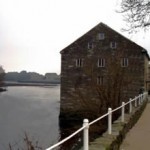 The Donegal Ancestry Centre in Ramelton has closed with the loss of three full-time and 20 part-time jobs.
The centre, based at a 19th century warehouse at The Quay in the picture-postcard town, is understood to have been struggling to keep its doors open lately.
The centre helped people from around the world to trace their roots back to County Donegal .
Donegal Ancestry Ltd was formed in 1992 following a demand by people overseas looking for help to trace their ancestry.
The centre was supported through grant-aid form Donegal County Council and other public bodies.
Local county councillor Ian McGarvey described the closure of the centre as a great shame.
Ends