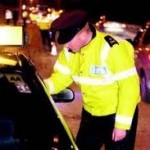 DRINK-DRIVERS were again out in force on Donegal roads over the Christmas period – despite the horrific weather conditions.
The county's leading traffic cop, Garda Inspector Michael Harrison, has revealed the number of people caught drink-driving from December 1st to January 3rd last was the same as last year.
In total 36 people were arrested despite the horrendous snow and dangerous road conditions which saw many roads deserted.
Inspector Harrison said he couldn't believe so many people had been drinking and driving on Donegal's roads during the freezing conditions.
He said he was shocked to see the numbers of arrests for suspected drink-driving were the same as last year and had expected them to be much lower.
"When I came to the station each day over Christmas, I could not believe that there were so many detections for suspected drink-driving considering one could barely drive on the roads," he said.
Donegal has bucked the trend for many other counties which saw drink-driving arrests plunge during the  cold snap.
In Sligo and Leitrim, the number of people arrested for similar offences dropped by a considerable 33% during the same period.
Inspector Harrison added "I am very disappointed, to say the least, that the message in relation to drink-driving is not getting across in Donegal," he said.
Roads figures released for last year show that a total of 19 people lost their lives on Donegal's roads in 2010 compared to 15 deaths in 2009.
The most horrific loss of life came in July when eight men lost their lives in the shocking double car crash outside Clonmany.
Ends