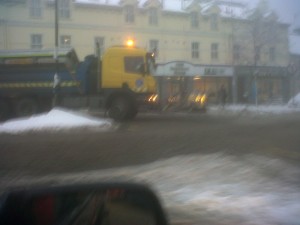 MOTORISTS are being advised to drive with extreme care this morning with reports of black ice across the county.
And the freezing conditions has led Donegal County Council to deploy gritters on major routes again last night.
Temperatures dropped as low as -4C last night with some hail in places.
However, despite light snow in many places including Ballybofey, Milford and Letterkenny yesterday, forecasts of up to 10cms of snow for last night did not come true.
Donegal County Council senior engineer Michael McGarvey said red routes will be gritted on a continual basis when the need is evident.
He said the council had 'considerable' salt stocks and more deliveries were due yesterday. However a decision has been taken to grit red routes, the N56 and the Quigley's Point to Greencastle road and Ballybofey to Fintown road for now.
"We would ask people to be very careful overnight as we are expecting snow in some areas and black ice as many roads are wet from recent rain and sleet," he said.
However with the cold conditions expected to last throughout the weekend, Met Eireann said there is every chance there will be more snow.
Gardai are once again urging motorists to be careful.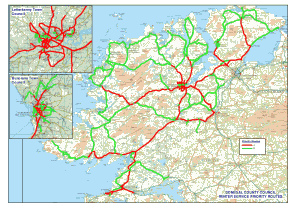 Tags: