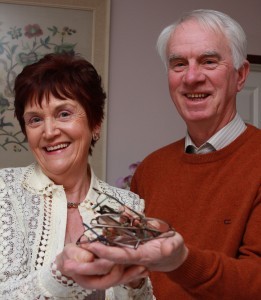 THEY WERE the talk of the nation this week – and now Castlefin couple Tony and Marie Canning have inspired hundreds of people.
The retired Garda and teacher wife became the first couple in Ireland to both undergo MPlus lens replacement treatment – allowing them to ditch their glasses for life!
Donegaldaily.com has been inundated with responses from people wanting to do the same.
Mr and Mrs Canning ditched their 13 pairs of glasses after having the revolutionary new lenses inserted at the Cathedral Eye Clinic in Belfast.
Andrew Spence, a director at the clinic, told us: "We are so delighted for Marie and Tony. What has happened since they told their story is that so many other people like them want to do the same.
"If people contact us we can try to help them."
The Clinic can be called on 048 90 322020.