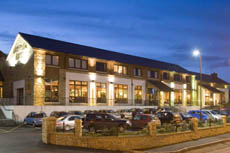 STERLING has risen faster than at any time since 2009 – great news for the tourism sector and local retailers in Donegal.
In simple terms, it means tourists from the North and Britain will get more than €1.20.5c for the £1. It makes hotel beds and meals cheaper.
It will also stop shoppers going north – and could begin a trickle of northern shoppers south into Donegal for the first time in more than two years.
And analysts believe the Euro will continue its decline this week as massive debt issues in Spain, Portugal and Italy become clearer on Wednesday and Thursday.
"The market is starting to get bulled up on sterling and we are too," Greg Anderson, a currency strategist at Citigroup Inc. in New York told Bloomberg.
 "Austerity in the UK doesn't seem to have had that big an impact on growth and growth is accelerating faster than in the euro zone."
The euro fell over 4% against sterling last week – down to £82.89p.
Borrowing costs for Portugal surged this week as it prepares to sell €20 billion in bonds.
Spain and Italy need to raise a combined total of €317 billion to manage their imminent debt maturities. Portugal will try to raise cash on Wednesday, and Spain and Italy do the same on Thursday.
Sterling is also benefiting from analysts who believe the UK interest rate will rise later this year.