A group of young Donegal emigrants (pictured inside) have been forced to flee to a house on high ground in a bid to escape flash floods sweeping Brisbane in Australia.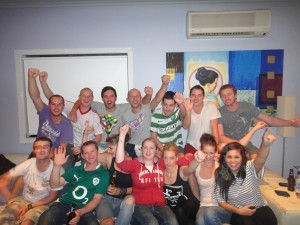 The group of 15 people, from Leiter, Nairn, Letterkenny and other parts of the county, were forced to flee the city and head to a friend's house in the suburbs.
Rory O'Gorman from Golf Course Road in Letterkenny said they are keeping their fingers crossed that the floods, which have so far killed 10 people and left 90 missing, passes them by.
Rory said he and his friends have even been forced to put their TVs and belongings into the attic of the home.
"We're pretty scared sitting here. We're trying to keep in touch on the web. But the police here are saying things are getting very worrying.
"We ran down to the supermarket but there was no break or milk or eggs because people are panic-buying.
"We're hoping the house where we have fled to is high enough that the floods won't affect us but you never know.
"We just want to let people back in Ireland that we're okay in case they're worrying about us," he said.
Rory added that police had told them that flooding in the city is expected to rise even further up until Thursday.
"We were told it rose by 1.5 metres in just an hour but it is expected to rise by more than four metres by Thursday.
"We just have to hold on and see what happens," he said.
Ends