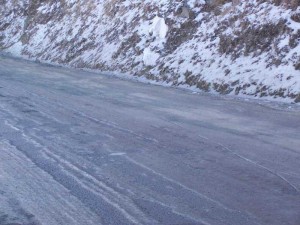 MOTORISTS are being warned to be careful on rural roads in Donegal this morning as patches of ice remain in many areas.
Warmer but stormy weather is due to arrive later.
But AA Roadwatch is saying there are still patches of ice in some sheltered rural areas.
The warning came after a spate of accidents across Donegal yesterday with incidents reported in many areas including Glenties, Killygordon, Donegal Town, Ballybofey and Ramelton.
One Glenties motorist emailed us last night to say: "The state of the roads around here were an absolute disgrace. You couldn't even stand up straight on them."
The county council has again been criticised over how and when it treats many of the county's roads.
Meanwhile a council meeting with the under-fire National Roads Authority didn't go well yesterday.
Deputy Mayor Padraig Mac Lochlainn said the NRA said it had no cash to improve any roads in Donegal.
Cllr Mac Lochlainn says there is currently a government plan to support the new A5 between Aughnacloy and Derry, but there are no provisions to improve the roads linking Letterkenny and elsewhere in Donegal to that new road.