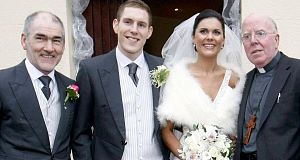 LATEST: THREE PEOPLE have appeared in court this morning charged in connection with the murder of Michaela Harte McAreavey.
The three men arrested are from Mauritius and are employees of the hotel where Mrs McAreavey was found dead two days ago.
Two are room attendants and the third is a supervisor. They are Abinash Treebhoowoon 29, Raj Theekoy, 33, and floor supervisor Sandip Moneea, 41. Two of the men are charged with murder and one with conspiracy to murder.
Mrs McAreavey, 28, the daughter of Tyrone gaelic football manager Mickey Harte, was found strangled at the Legends Hotel on Monday.
It is believed the men will be provisionally charged before a magistrate before later going in front of a judge.
Mickey Harte spoke last night of the family's devastation at the death of his daughter Michaela.
Michaela's body was found in her hotel bedroom on the island of Mauritius yesterday where she was honeymooning with her new husband John McAveaney.
It now appears that Michaela was murdered after she disturbed burglars in he room.
Speaking outside the family home in Ballycawley in Co Tyrone, the GAA legend said they were heartbroken by Michaela's murder.
"We are devastated but heartened by the support we have got throughout the community, throughout the GAA community, throughout the wider community in the north, throughout Ireland and across the water."
"We are grateful for that. Thank God for great people. Michaela was a lovely girl, a wonderful daughter, a brilliant sister for these boys and we will always treasure her."
Supported by his sons Michael and Matthew, Mr Harte described his daughter as a beautiful girl, saying "she couldn't be better, couldn't be nicer. God love her, we are so, so sorry."
"We just loved our Michaela. She was such a good girl. Every father says that about their daughter, but I can say that without a shadow of doubt.
"She was a gem and we will always remember her," he said of his only daughter. Mr Harte also spoke movingly about his new son-in-law John McAreavey. "We are equally sorry for poor John her husband whom she adored. He adored her. They did not get so long to share their lives with each other. It is such a shame. Our hearts are broken," he said.
Six people, all believed to be staff from the Legends Grand HOtel, were still being quizzed by police tonight.
They are being quizzed after it was revealed that the door to Michaela's hotel room on the sun-kissed resort of Maritius was opened using an electronic key.
Police now believe Michaela disturbed a robber when she came back to the room at the Legends Hotel Grande.
A police spokesman has revealed that the crime scene shows signs of a struggle.
The Irish language teacher and former Rose of Tralee contestant, was found murdered in her hotel yesterday where she was on honeymoon with new husband, Co Down footballer John McAreavey.
Mr.McAreavey has been ruled out as being a suspect in the case.
Police say Mr McAreavey, who was eating in a restaurant nearby when his wife died, was questioned as a witness and is not a suspect.
They believe the motive for the murder was theft and plan to question up to ten local suspects later today.
The policeman leading the investigation into Michaela death Superintendent Yoosoof Soopun, said a postmortem has shown evidence of strangulation and neck compression.
He said six potential suspects had been identified and that he was confident of an arrest later today. Some reports said a list of ten suspects had been drawn up.
Supt Soopun said Michaela's husband John was in the restaurant of the hotel when she was murdered.
The police officer said Mr McAreavey was not a suspect and that investigators were examining whether her death was related to a burglary attempt.
"She had gone back to the room to get some biscuits to put in her tea and, when she failed to return, her husband went to look for her," he said.
"When he found her in the room, she had been killed. He tried to help her but she was already dead.
"A postmortem has showed she was strangled, she died from neck compression." Mr Soopun said the killer had used an electronic key card to enter the room.
"There was no forced entry into the room," he said.
"Whoever killed her definitely used an electronic card." He added: "This is being viewed with much concern by the police and government of Mauritius. We are doing everything we can to find whoever was responsible."
Grieving father Mr Harte, the three-time Tyrone All-Ireland winning manager, last night described Michaela as his "little jewel".
Bishop John McAreavey, an uncle of the groom, married the couple on December 30 at St Malachy's Church at Ballymacilroy.
Standing outside a parochial house in Banbridge, Co Down last night, he said many questions remained unanswered.
He said: "We fear something happened. We have fears that that is what happened. There are still so many unanswered questions. We are upset that she is dead. That is what we are struggling to come to terms with."
Bishop McAreavey added: "We are like everyone else. We hope that the questions that surround her death will be answered. We hope in time the situation will become clearer."
Staff at the luxury hotel where tragic Michaela Harte was on honeymoon tried desperately for half an hour to save her life.
There has been profound sadness across Donegal after the news that Michaela was dead. But their will be horror today that she was strangled.
The bubbly Irish language schoolteacher, 27, could regularly be seen at many inter-county games and was a regular visitor to Donegal, particulalry the Gaeltacht.
It is understood she went upstairs to rest at their hotel yesterday and make a cup of tea but when she failed to re-appear, her husband became concerned and discovered her body in their room.
A hotel porter was nearby at the time. A second member of staff was then summoned. He went straight to the room and immediately tried to resuscitate the young teacher for half an hour by giving her mouth-to-mouth and heart massage.
A post-mortem examination will be carried out, but it is not immediately clear how she died.
The staff member consoled her husband, who made a statement to investigating police.
Afterwards he said: "John is far from home, far from his family and in a country where he does not know anybody. I am just here to provide as much help as I can. This is a terrible situation. He needs support."
Mrs McAreavey's father said in a statement that she had been "killed".
Staff at the hotel claimed she died as a result of "an accident".
The uncle of John McArevey, the Bishop of Dromore John McAreavey, and Mickey Harte asked for prayers for Michaela, John and their families and loved ones.
"Both families are deeply shocked and devastated by this tragic news and they ask for privacy and space at this time of profound grief," they said in the statement.
Father Brian Hackett, the family priest, said: "Her big thing was her daddy being the manager of Tyrone. She went everywhere with him. She was a religious girl. She was a dedicated Tyrone supporter.
Legends Hotel, where the couple were staying, said Michaela was discovered by her husband.
"The management of Legends Hotel is shocked and very sad further to the death of a guest, Michaela Harte."
"The dead body of the guest was discovered by her partner and once alerted, the hotel called the authorities," the hotel said.
"Legends wishes to reassure its guests and the public in general that it is co-operating in the best way it can with the police."
The Tyrone GAA County Board paid tribute to Michaela.
"Michaela and indeed the wider Harte family of Marian, Mark, Michael and Matthew have been very closely associated with the present senior football team since Mickey took over as Tyrone minor manager in 1991.
"This tragedy will be sorely felt throughout the Tyrone GAA family."
Donegal GAA fans paid tribute on the fans website hoganstand.ie, with one Donegal contributor writing: "I had the good fortune to meet Mickey Harte and his wife a few years ago, a very humble man who clearly had a very special bond with his only daughter. Michaela continued her family's strong faith and love of the G.A.A. & the Irish language. Deepest sympathies to her husband and family for their loss, R.I.P. Michaela, a true gael."
Deputy First Minister Martin McGuinness has expressed shock at the sudden death.
"Michaela was always close to her father's side during many great days for Tyrone football. Her enthusiasm for her native county, for which she was an excellent ambassador, knew no bounds", he said.
"My thoughts and prayers are with her husband John, father Mickey, mother Marian and the entire Harte and McAreavey families at this difficult time."
************************************