FIANNA FAIL councillor Ciaran Brogan will NOT stand in the forthcoming general election, donegaldaily.com has learned.
Brogan met with his supporters in the Mount Errigal Hotel in Letterkenny last night and broke the news to them.
The popular Letterkenny Town Councillor and Donegal County Councillor says he is concentrating instead on his constituency work as his party's whip on both councils.
The announcement was received with shock from dozens of loyal supporters who were already planning a major assault in the forthcoming election – with or without the backing of Fianna Fail headquarters.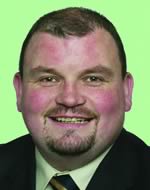 However Colr Brogan said he remained loyal to serving the Fianna Fail party in Donegal and ruled out standing as an independent candidate.
Last night's meeting was attended by Councillors Victor Fisher, Tadgh Culbert and former TD Jim McDaid.
Brogan had been considered a natural successor to outgoing TD Jim McDaid and he was already receiving the unofficial backing of McDaid's core supporters.
However it is understood that Fianna Fail headquarters wanted a two ticket approach in the North East constituency with the pairing of sitting TD Niall Blaney and upcoming county councillor Charlie McConalogue.  
Many of Brogan's supporters are outraged that the well-known councillor has been apparently snubbed by his party.
There had even been speculation that Brogan would stand as an independent hospital candidate in the election.