CHRISTMAS has come twice for a little Letterkenny girl who had her brand new present from Santa stolen by cruel thieves.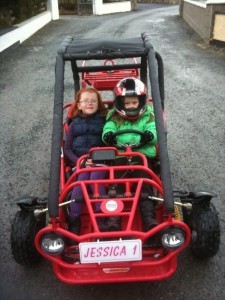 Eight year old Jessica Peoples was left heartbroken when her little red buggy disappeared from outside her home in Lismonaghan.
The €1,800 red Challenger buggy, complete with her personalised license plate JESSICA 1, was taken from outside her home at Lismonaghan just a couple of days after Christmas.
Jessica's dad Michael said the thieves ruined Christmas for his daughter and left her in tears.
However a big-hearted businessman has showed the real meaning of Christmas spirit after giving little Jessica another buggy – completely free.
 Gary Cooney of Motoworld and Gary's Pet World in Letterkenny heard about Jessica's plight on regional radio station i102 after Jessica's dad offered a cash reward for the return of the buggy.
Gary said he was only too glad to come to the rescue.
"Nobody wants a present from Santa to be taken from them; as a parent I was touched by this story when I heard it on the radio. We were delighted to come on board albeit in tough economic times to donate a new buggy to little Jessica."
And little Jessica was almost speechless when she was given her new Hammerhead Gt80 buggy which can reach up to speeds of 25mph.
The shy little girl was overcome and all she could say was "I'm very happy."
Her dad Michael said his faith in people had been restored after admitting his Christmas had been ruined by the heartless thieves.
"Jessica had asked me what kind of people stole Santa's presents and I didn't know what to tell her. I was so mad by what had happened.
"But today I now know that there are more good people out there than there are bad. I can't thank everyone enough who has put the smile back on my little girl's face," he said.
i102 radio presenter Dave O'Connor said he was delighted the story had a happy ending for Jessica.
"In a world full of negativity this truly is an amazing story of what it truly means to be Irish"
Ends