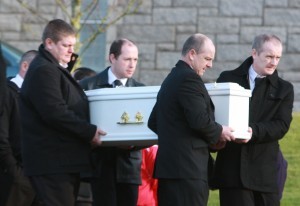 THESE ARE the heartbreaking scenes as little Hugh Simpson Callaghan is taken to be buried.
The 8 year old Carndonagh boy choked on a chip which triggered an asthmatic attack which killed him on Monday last.
People cried openly as the once smiling little boy was laid to rest at the Church of the Sacred Heart in Carndonagh earlier today.
He was surrounded by his loving mum Leanne, stepfather Sean and brothers and sisters Jonny, 10, Jade, 9, Keirsha, 3 and Séanice, 2.
Teachers from Craigtown Primary school, where Hugh was in second class, were also at the funeral.
Heartbroken mum Leanne said she was lost for words after losing her son in the freak accident.  
"We are heartbroken. No words can describe how we are feeling. Hugh was our loveable wee rogue," she said.
"He turned eight on November 11 and I told him his birthday this year would be 11.11.11, a once-in-a-lifetime thing. He thought this was absolutely brilliant," she said.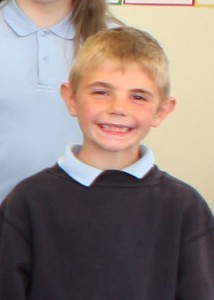 Hugh was the third born of a family of five and was in second class at Craigtown National School where he had a lead role in the Christmas play.
Our picture showing Hugh smiling brightly was taken just a few weeks ago at the school where he has been described by teachers as "a loveable child."
The tragic accident happened on Monday at the boy's home in Gleneely.
Hugh was rushed to a medical centre in Carndonagh following the accident but could not be saved by medics.
Local Fianna Fail councillor Charlie McConalogue, who lives just a mile from the boy's home, said the whole community was in shock at Hugh's tragic death.
"It's a every sad situation and everyone around here has been touched by what has happened.
"It's sad when anyone dies but the fact that this little boy was so young and the manner in which he died, makes it all the more heartbreaking.
"I know the boy's stepfather Sean and he is a very nice man.  My sympathies and the sympathy of the entire community go out to them at this very sad time," he said.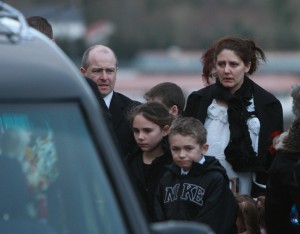 Craigtown Principal Gerard O'Kane said in a statement: "Hugh loved school and carried out his school work with great interest and enthusiasm.
"He was popular with all children in our school and was full of fun and laughter. He was always smiling. Hugh was a friend to everyone.
"He will be very sadly missed by all the staff and children, their parents and members of our community," the school said in a statement.
Ends