Jimmy McDaid has finally lifted the lid on the real reason why he quit politics.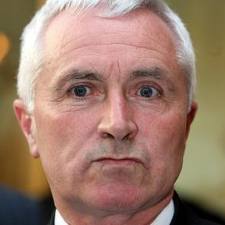 The Letterkenny TD and former Government Minister abruptly left Dail Eireann in November last after 21 years as a public representative.
Now the Fianna Fail politician has revealed what pushed him over the edge and leave the corridors of Leinster House.
Dr.McDaid said he was afraid that the controversy surrounding his political life was threatening to interfere with his patients at his medical practice.
McDaid, who is a partner in the very successful Scally Practice in Letterkenny, was caught giving a sick cert to an undercover reporter who said he needed time off work even though he was not actually sick.
The reporter claimed he was up visiting friends in Donegal and needed the sick cert so he would not have to go back to Dublin and enjoy a long weekend here.
The entire conversation with Dr.McDaid was secretly taped and the conversation splashed across the pages of a national newspaper.
Dr.McDaid said it was this incident which made up his mind for him that he had to get out of politics or risk compromising the confidentiality of his patients.
He added that when people began coming into his practice seeking to interfere with his role as a doctor, he just could not allow politics to compromise his medical and professional position.
"I was open game," he said.
He added that he had no doubt that the path his political life was taking was having an affect on his medical and personal life.
Dr.McDaid also indicated that he will definitely NOT be running in the next General Election despite constant rumour that he is to stand as an Independent.
Ends