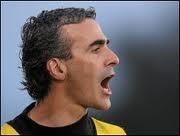 DONEGAL beat the students of the University of Ulster at Jordanstown in wet and windy conditions in Ballybofey tonight.
It was a good work-out for Jim McGuinness's men as they ran out 0-14 to 0-10 in front of just a few hundred supporters.
The county side were just too strong in most areas of the park for the students and the final scoreline probably flattered the visitors.
There was a poignant moment before the game as players and supporters observed a minute's silence in memory of Michaela McAreavey.
Mattie Donnelly opened the scoring for Jordanstown but Donegal's Ryan Bradley quickly equalised.
Donegal opened up a 0-7 to 0-4 lead at half-time, and there were concerns among the home fans when Donnelly got the first score of the second half to reduce the deficit to just two points.
They needn't have worried however as Molloy scored twice to take the gap to five points ten minutes into the half.
Both sides exchanged more scores but Donegal held out for a deserved win.
FULL RESULTS
Barrett McKenna Cup
Section A
Donegal 0-14 0-10 UUJ
Section B
Monaghan 0-9 0-13 Queen's
Cavan 1-10 1-12 Derry
Section C
Down 3-11 2-15 Armagh
Antrim 2-12 0-09 St Mary's