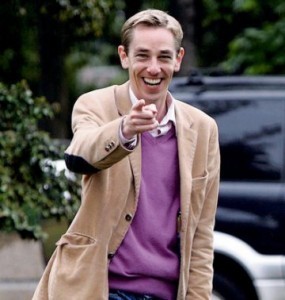 SINN FEIN'S  Martin McGuinness last night claimed thousands of Donegal Fianna Fail supporters have switched to Sinn Fein.
Speaking on the Late Late Show, the North's deputy first minister said he had spoken on the doorsteps to voters in the recent Donegal South West by-election.
And he claimed he met so many disillusioned Fianna Fail supporters who were switching to Pearse Doherty because Mr Doherty was someone 'who got things done.'
TV presenter Ryan Tubridy badgered the Derry man over whether or not Gerry Adams was in the IRA.
It was another tired and poor attempt at journalism by Tubridy that clearly irked the studio audience.
The charade was only broken when McGuinness sent best wishes to a 104-year-old friend from Ardara who is in Letterkenny General Hospital!
Today internet sites were alive with posts slagging off Tubridy for being 'rude'.
One poster wrote: "Firstly let me say Im a huge fan of Ryan Tubridy and a massive massive massive admirer of Martin McGuinness.
"I have to say I didnt like Tubridys way of interviewing McGuinness. I have no problem with him asking the tough questions but I thought he was a bit aggressive and a bit short. Anyone else think this? or am i being unfair??"
Another poster responded: "i totally agree with you.i also like martin mc guinness and ryan tubrity.i was really anoyed with ryan for inviting the man onto his show and treating him with such disrespect..after all he is the deputy first minister of northern Ireland.wonder if ryan realises that HE was the one who looked bad.fair play to martin.he was well able for him"
One poster jibed: "Tubs most probing question was the irish journalistic gem of "was gerry adams in the ra?" The Plank could do better."
ends