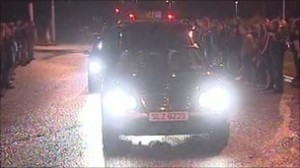 HUNDREDS OF neighbours and friends last night lined the route into the tiny townland of Glencull in Tyrone where Michaela Harte McAreavey lived and loved her too short life.
Her parents Mickey Harte and his wife Marian, brothers, cousins and so many friends stood and waited as the hearse completed its journey from Belfast.
Members of the Tyrone GAA club formed a guard of honour as the cortege passed. Many of them wept openly.
Irish teacher Michaela, a friend to so many in Donegal over so many years, was murdered in her hotel room while on honeymoon in Mauritius.
Her husband, John, was on the long flight home to Ireland, accompanied by his father, Brendan, his brother, Brian and Mrs McAreavey's brother, Mark.
The grief-stricken Bishop of Dromore John McAreavey, uncle of the groom, was there to meet them.
Overnight close family and close friends are mourning for the loss of Michaela.
On Saturday and Sunday many others from every county in Ireland will travel to her home townland to give support to her parents, siblings and husband.
And on Monday they will all say goodbye at the same church where she married John just two weeks ago.