An elderly woman has died and her brother has been badly injured after a housefire in Annagry today.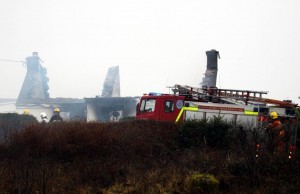 The woman, named locally as Nellie Rodgers, died after the blaze at their home in Kerrystown which was reported at 9.30am.
It is believed Ms Rodgers, who was in her 70s, shared the house with her brother.
It is understood that the woman's brother Dan managed to get to the front door of the door just before the ceiling of the house fell in.
He managed to escape but was rushed to Letterkenny General hospital where he is being treated for his injuries.
It is not sure what caused the fire but Gardai and the fire service remain at the scene of the blaze.
A spokesman for the fire service said a full investigation into the cause of the blaze will be carried out.
Ends