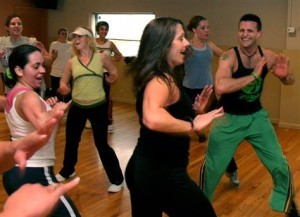 Donegal ladies are swinging their hips and shedding the pounds with the help of a new dance craze that has hit the county.
Word of mouth about the new Zumba fitness workout is seeing women making their way to new classes that have sprung up across Donegal.
Zumba dance workout is now believed to be one of the world's fastest growing fitness programmes and Donegal is not being left behind.
The hot rhythms of Latin American music can now be heard at Aura Leisure Centre in Letterkenny where the Zumba classes have just started.
Moville woman and Zumba instructor Josephine McLaughlin, who now lives in Killea, said she was confident that more and more people would get into the swing of the Zumba fitness programme.
She said: "It's a type of workout that mixes dancing to easy-to-follow beats set to Latin music with cardiovascular exercise.
"It's a workout without feeling like one. Anyone can do it. It had already started in America in 1995. It was my nephew in England who told me about it.
"When I did aerobics ten years ago the constant high impact was too painful on my arches. Zumba doesn't have that.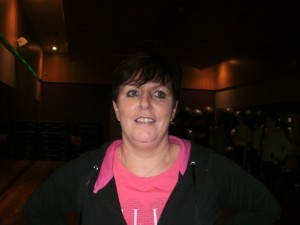 "A Zumba workout targets the legs, glutes, arms, heart and abdominal muscles with the dance steps of meringue, salsa, mambo, hip-hop, rumba, calypso and flamenco. Although you're doing a serious workout that's not the way it feels."
Zumba is a Colombian slang term that means 'to move fast' or 'buzz like a bee'.
The dance routines feature interval training sessions where fast and slow rhythms and resistance training are combined to tone and sculpt your body while burning fat.
Rhonda McCrabbe, Fitness and Dry Sports Manager at Aura welcomed the new fitness class to the timetable.
She said: "It's new and fun and I thought it would attract people who prefer a dance workout rather than the gym. It's something a bit different and it already has been very popular."
There are four classes a week taking place at Aura – Tuesday and Friday mornings at 11am and two classes in the evenings, Monday at 7pm and Wednesday at 6pm.
Classes are €5 for Aura members and €7.50 for non-members.
For more call 91 06422.
Send your stories to info@donegaldaily.com