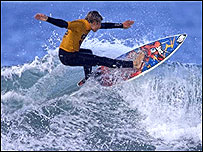 HE'S KNOWN as the Blogging Surfer – and the good news for Bundoran is that Lyndon Wake has come to stay there for THREE MONTHS!
And he will be telling surfers around the world how great the waves are off the Donegal coast.
The blog is carried on the BBC internet – and his words could be a massive boost for tourism.
Previous blogs have included information on surfing trips to Australia and Bali.
"As I'm writing this I'm actually sat in a cosy little cottage in an Irish town called Bundoran in Co. Donegal," says Wake in the first of his weekly blogs today.
"This marks a definite start to the most exciting project I've been involved in.
"A good friend of mine and incredibly experienced big wave surfer Andrew Cotton (who also hails from Croyde) invited me on a three-month project to Ireland.
"He's spent a lot of time over here looking for new spots and charging the biggest swells the Atlantic has thrown at him.
"As we delved deeper and deeper into the project things starting shaping up nicely."
The surfer reveals: "Basically this project is about raising levels. Cotty is very well experienced out here and is almost being my teacher.
"So much so he's Yoda and I'm Luke Skywalker!
"I haven't had much experience in big waves before and Cotty is passing on what he knows whilst benefiting himself being out here and around the good waves Ireland has to offer.
"As well as surfing the already well-known spots another one of our main objectives is the discovery side of things.
"Ireland is a huge lump of land mass with an extremely diverse and exposed coastline offering up all sorts of evil monstrosity of a wave.
"One of the main things which you need for this sort of a project is a personal watercraft.
"Obviously this is a huge expense to go out and buy one, fortunately Redbull have been kind enough to loan us their 250hp beast for the project.
"Not only is it needed for the actual towing on of these waves but like I touched on and will speak about more it's crucial for the discovery of these waves as many of them are inaccessible by road.
"So enough of the intro to this thing. We're now two days into it and it's looking incredibly exciting with a lot of things looking like they will have some serious potential."
And donegaldaily.com's advice to local tourism bosses….look after Lyndon! It can only help Bundoran!
ends