A LETTERKENNY nun led the mourning in Mauritius as hundreds of local people attended an emotional mass at the very time Michaela Harte was being buried.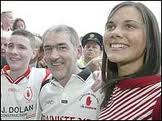 Sister Elizabeth Ateer, 89, who has been based on the sunshine island for 63 years after emigrating there in 1947, said it was a very difficult week for everyone involved in the tragedy.  
She said: "We are all emotional. It has been a very hard week for everyone in Mauritius and the shock won't fade."
Sister Ateer sat in the front row of the church – the same church where broken-hearted John McAreavey went to take mass after his bride was murdered.
Her colleague Sister Colette Deasy, 65, gave a reading in Irish as a huge congregation packed into a Catholic chapel a few miles from the hotel where the newlywed, 28, was murdered.
The service was organised by Mauritian Prime Minister Navim Ramgoolam and was attended by his ministers and staff from the Legends hotel where Michaela died.
Speaking afterwards Sister Colette, from Drumshambo in Co Leitrim, said: "It was a profoundly moving and emotional service.
"The church was absolutely packed to the rafters with people of all faiths who wanted to come and show their support for Michaela, for her husband John and for the Irish community here and in Ireland.
"This country has been absolutely shocked and devastated and even though John has returned home, people wanted him to know that we still care about him."
The Sister, who has lived in Mauritius for 31 years, added: "Today's service was only arranged at the last minute when the prime minister decided the island needed to mark the moment that Michaela's funeral was beginning.
"The priest asked whether I would say something in Irish.
"I've been here so long that my Irish is a little rusty but I wrote down my thoughts on the sense of sadness that I have felt.
"The pain was etched into the faces of those in the church, but people were proud to have come together and let the world know that Mauritius also cares for Michaela and for John."
Sister Colette was joined at the service by two fellow Irish nuns Sisters Elizabeth Ateer and Teresa Clarke. The 89-year-olds sat side by side in the front row during the mass, which was conducted in French, English and Mauritian creole.
Sister Teresa, from Ballyjamesduff, Co Cavan, added: "We have been here so long that Mauritius now feels like home and never have we experienced such a thing.
"All we can do is to pull together and show we are thinking of those families for whom today must have been the hardest of all."
The huge congregation quickly filled the rows of wooden benches inside the building and six extra rows of plastic chairs outside.
Ends