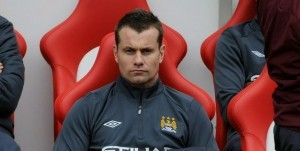 SHAY GIVEN WAS mysteriously dropped by Man City for their FA Cup clash with Leicester last night – sparking reports that Arsenal want the player's services.
The club had made no secret of the fact that Given was to have started the game, which City won 4-2, earlier in the day.
But when the team was announced at Eastlands, Joe Hart was named in goals.
It is no secret that Given would love a move to the Emirates – and Arsenal desperately need a world class 'keeper.
They are still in the FA Cup – and play Leeds in a replay tonight. Had Given featured last night, it would have ruled him out of any possible future appearances for the north London club.
However, City manager Roberto Mancini has again warned Given it is not certain such a move will be granted.
As we reported at the weekend, the City boss wants a replacement before Given can go.
And it makes financial sense for them to sell now – as Given could go on a free transfer at the end of the season.
Asked why Shay has hardly featured this year Mancini said: "It is not a simple position. You can change the other players every game but the goalkeeper is different.
"That is the only reason why Shay has not played so often because he is a fantastic goalkeeper."