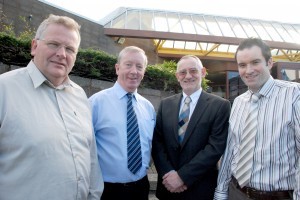 THE TRAINING and employment agency FÁS has signed a new contract with the North West Regional College to deliver expert training, it was announced today. 
The course which the College is delivering follows a successful relationship between the two organisations, which has seen almost 80 people gain employment in computing and IT, most notably in the areas of software development and testing.
The training which is being delivered in the FÁS Training Centre, Letterkenny is providing specialist training in Client Server Applications, specifically Java and Cobol Programming.
Lecturer Kevin McLaughlin has a proven track record in this particular field, and has helped 70% of previous participants gain employment.
FÁS offer this 30 week course to those who have found themselves unemployed, and are looking for a practical course that may lead to a new career.
Applicants have to pass a rigorous vetting process to gain access to the course which tests their aptitude and motivation to do the course, however they are not required to have a background in IT before beginning the programme.
Delivered Full-Time in Letterkenny, the programme also includes a 4 week work placement at the Pramerica Software Development and Contact Centre in Letterkenny. The content of the course has been developed to match the company's client needs, and so this practical experience often proves invaluable for the participants, who are also given the opportunity of attending an interview with Pramerica at the conclusion of their course.
While there is no guarantee that there will be vacancies at the end of the programme, students will hold the required qualifications, skills and personal experience of the industry environment, to be considered for future roles that may arise in Pramerica, or similar companies in the region.
Lecturer Kevin acknowledges that the work placement is a vital element of the course.  "Participants most often find that during the four week work experience in Pramerica, all the theory and practice falls into place.  They also get that much-needed foot in the door, and since our first course in 2005 many have proven themselves during the placement and secured employment as a result."
As well as gaining the technical programming and software testing skills, the College ensures that participants also gain soft-skills that will benefit the learners as they seek employment.  From CV preparation to interview skills, there is a focus on assisting the participants to build their confidence and develop their employability skills.
On successful completion of the training course Learners receive a 'City & Guilds Diploma and Advanced Diploma in Software Development' which involves completing a range of practical assessments in Cobol and Java programming, SQL, while also being assessed in creating, designing and testing software components and requirements analysis and systems design.
North West Regional College Principal and Chief Executive Seamus Murphy praised the skills and commitment of the staff involved in securing the contract.  "We are delighted to once again be working with FÁS, especially in delivering this industry-tailored computing programme.  We consider this as further recognition of the expertise and skill of the lecturing staff within the College, especially in the priority skill area of ICT and I commend them for their hard work ."
ends