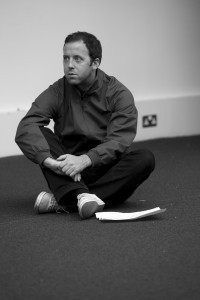 Unscrupulous political ambition and outright villainy is under the spotlight at An Grianán Theatre next month in a double whammy of impressive drama.
No, it's not a specially convened sitting of Dáil Éireann but a new staging of Shakespeare's Richard III with Letterkenny actor Iarla McGowan taking the lead in the London-based Love & Madness Theatre Company production.
McGowan further stretches his acting prowess the following night with the company's staging of Dario Fo's Accidental Death of an Anarchist with another insight into high-powered corruption and Machiavellian tactics.
It will be the first time the 32-year-old Dromore man will perform before a home audience since moving to London to train in 2002.
The former Scoil Colmcille pupil, where his mum Ann still teaches, told donegaldaily.com: "I am very much looking forward to performing in An Grianán. Though it is my home town theatre I will say, having played in a lot of theatres over the last number of years, that it is one of the best theatres in the country.
"At every opportunity, when I get home, I go there to see shows put on by local theatre groups or touring productions. I always look forward to that.
"Our theatre has a unique warmth and homeliness, and that is largely generated by the staff and technicians who work there. This spirit is instilled from the top down.
"I will of course have nerves before I go on stage, but this is only because I would want to do well in a theatre which I hold in high esteem and because I am playing in front of my own."
As well as being "fascinated" by the character of Richard III, McGowan admitted the role was a chance to push himself.
"He fascinates me, of course, and I am trying to get at the psychological underpinnings of his villainy – why he does what he does.
"I am looking at a few things, like his relationship to his deformity and what that has done to him, how it makes him feel. Is it something he is used to, grown passed, or is still really upset about it. Then, how that deformity effects the people around him, and the outside world. With a humpback, and a malfunctioning leg and arm, it's not something that can be ignored. That's one thing."
He meticulously researched the role of Richard including speaking with people from the medical profession about the nature of the deformity.
"He has classically been portrayed as a hunchback, but in today's society this would not be the case, a child showing these symptoms would be treated at an early stage. I had to investigate and find what would be coherent with today's world.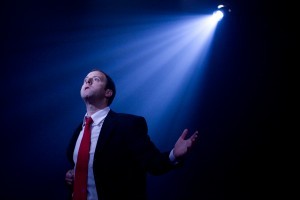 "From various reading and talking to different people from the medical profession, I found that one of the results of a difficult birth could be a condition known as ataxic cerebral palsy. It is a condition which affects body movement and muscle coordination, caused by the brain being damaged during birth.
"It would mean the sufferer having great difficulties moving and talking. Of course, as we are doing a Shakespeare play and speaking verse, bearing this condition in the rehearsal room and then on stage brought with it a lot of problems, but, thankfully, I had a very good movement director who helped me find the right level and a great director who kept a close eye on diction and coherence."
Directed by Ben Kidd, the modern day staging allows the audience to relate better to the behaviour of the characters, said McGowan.
"We have a younger member of a political organisation, who wants to become leader and who kills and maims in order to achieve this.
"We do not have to look very far from Ireland to see where this could be happening today. Any country in eastern Europe or in South America may today have these political problems."
The young actor said he was undaunted by the theatre legends and movie stars who have played the scheming king.
 "Yes, some great names have played the role. I have read the play many times before, in fact it has been my favourite Shakespeare play ever since I first read it a number of years back,  but thankfully I was in the spotless position to have never seen a production of the play. It is a great role – but a demanding one.
"There have been many famous interpretations of the part throughout the years – Antony Sher, Simon Russell Beale and Ciarán Hinds – and though having not seen them, I can only be inspired and not intimidated.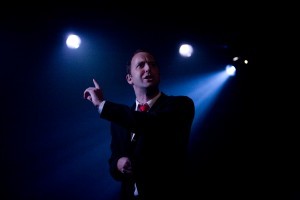 "What I can say is that this is a great part and I am very lucky to get the opportunity to play it, and to push myself as I am doing it. This is a brilliant play. It is excellently written. As Peter O'Toole once said "good parts make good actors", and it is a part which every actor should want to play."
McGowan said he continues to learn his craft.
"I am also fortunate to be part of a wonderful cast, full of great actors and actresses. And it is only when you are working with people like this that you grow."
Make your way to Letterkenny's An Grianán Theatre to hear the memorable lines: 'A horse! a horse! my kingdom for a horse! and 'Bloody thou art, bloody will be thy end.'
It will be well worth it.
Richard III opens at An Grianán Theatre on Wednesday February 2nd at 8pm and Accidental Death of an Anarchist plays on Thursday February 3rd at 8pm.