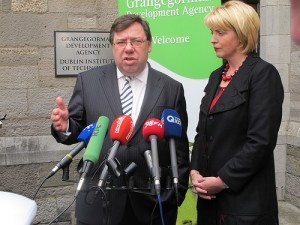 Taoiseach Brian Cowen today quit as the leader of Fianna Fail.
Addressing a press conference in Dublin today – with Mary Coughlan by his side – in both Irish and English, he said the focus on personal politics had deflected attention from policies.
"I have decided to step down as leader of Fianna Fail," he said.
"My decision will allow the party to elect a new leader and fight the election united," he said.
At this crucial time the focus should be on policies of parties and not on personalities, said Mr Cowen.
"I'm concerned that renewed internal criticism of Fianna Fail is deflecting attention from this important debate," Mr Cowen said.
"Therefore, taking everything into account after discussing the matter with my family I have taken, on my own counsel, the decision to step down."
The Taoiseach added: "My intention now is to concentrate fully on government business and on continuing to implement the recovery plan."
He thanked his wife Mary, children and other family members for their support.
Asked why he had changed his mind, he said he had discussions with his family last night and he decided to take the decision this morning.
He wanted a united Fianna Fail to into the March 11th election, he said.
He will now concentrate on government matters as Taoiseach.
The move came as more Fianna Fail members had called for Mr Cowen to stand down. Earlier this morning Donegal SW election candidate Brian O'Domhnaill twisted the knife into the Taoiseach by saying he should go.
RTE carried the press conference live – cancelling the movie '20,000 Leagues Under The Sea'!
Earlier, Fine Gael leader Enda Kenny said his party will vote against the Government in next week's motion of confidence.
Speaking at the Alliance Party's annual conference in Templepatrick, Co Antrim, Mr Kenny said he was very relieved to have a date for the General Election.
He said that Fine Gael would be ready to contest an immediate election, were the Dáil to be dissolved next week.