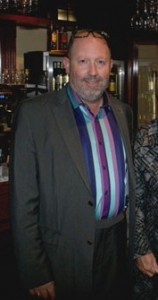 UPDATED: COPS DO want to quiz Ballybofey-based French businessman Francois de Dietrich as part of an investigation into an alleged Ponzi investment scam, PSNI and Garda sources have confirmed.
Earlier today de Dietrich, boss of Etic Solutions, claimed he isn't wanted by the authorities.
However sources have told us they do want to question him about the scheme – and about alleged breaches of a Northern Ireland High Court retraining order.
Assets and cash valued at an incredible Stg£20.3 Million have been seized in the North as part of a cross-Border investigation into Mr de Dietrich.
The shocking new figures were released as detectives in Donegal and the North join forces to investigate how at least 230 people – most of them from Donegal – handed over vast sums of money to the boss of Etic Solutions.
Earlier this week donegaldaily.com posed the question – where is Francois?
Today that is the question on the lips of at least five different police forces, two financial authorities and two sets of revenue investigators.
Police believe Monsieur de Dietrich had run a scheme offering vast returns to investors, claiming he was buying and selling liquidated stock.
However they don't believe any stock existed – and that Mr Dietrich was in fact running a so-called illegal Ponzi scheme.
In November Gardai raided offices at the Bastille Bistro in Letterkenny, Mr de Dietrich's home and offices in Ballybofey.
By that stage the Financial Services Authority in the North had sought and won a High Court injunction, preventing Mr de Dietrich from procuring any more funds for his scheme.
A judge also granted an order freezing assets then worth £6M.
Mr de Dietrich is alleged to have breached the judge's order and three weeks ago the High Court ordered his immediate imprisonment.
He has been ordered to appear before the court again next week. Meanwhile cops and the FSA UK have frozen more accounts in five different banks containing £14M – taking the total over £20.2M.
The news will not surprise too many people in Donegal.
Some associates of the French businessman had been telling investors that their money will be returned soon.
However the fact that the authorities have managed to recover so much money will mean that all is not lost for investors.
Tonight a well-placed source in the North told us: "The final tally of cash could be in excess of £50M between Northern Ireland, the Republic, Germany and other countries.
"I suppose the big question will be how many of these investors will come forward to put in a claim for money after any criminal trial. We do believe that some of these investors have put in money that they may not have necessarily declared to the taxman."
Donegaldaily.com now been given a list of names of investors.
Many are well-known business people from every part of Donegal. One is waiting on €1.4M plus his interest.
Agents of the scheme – two of them well known in the county – were not available for comment. They are being treated as innocent parties by cops.
We will endeavour to get their side of the story today. Their details are with the authorities.
A Ponzi scheme is a fraudulent investment operation that pays returns to separate investors, not from any actual profit earned by the organisation, but from their own money or money paid by subsequent investors.
It always collapses – and many people are usually left out of pocket.
If £20M has been seized, it is possible that this scheme could involve three times that amount.
Having taken so many investments from Donegal people, it is understood a number of Derry business people were also asked to invest in recent months.
Mr de Dietrich had sponsored City of Derry rugby club.
Last night one Derry investor told us: "I only realised I may lose my money when I was told by a friend to log onto donegaldaily.com just before Christmas. It is still sinking in.
"Hopefully I will get my small investment back, even if it takes a couple of years."